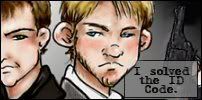 Oh my god this is the most addictive and awesome thing in the entire frickin' world man. I have spent the last week obsessing over this. It's an interactive story, you have to find hidden things, solve puzzles and break codes to get to each new part in this mystery, it's hard and it's worth it.

It's Lotrips AU set in 1929. Everyone's in it, the soundtrack is this running jazz clip that is absolutely awesome. I honestly think that everybody should run and play/read/do this right now!

If you become stumped
or find a dead-end
it's at The_Goldberry
where you'll find a friend.